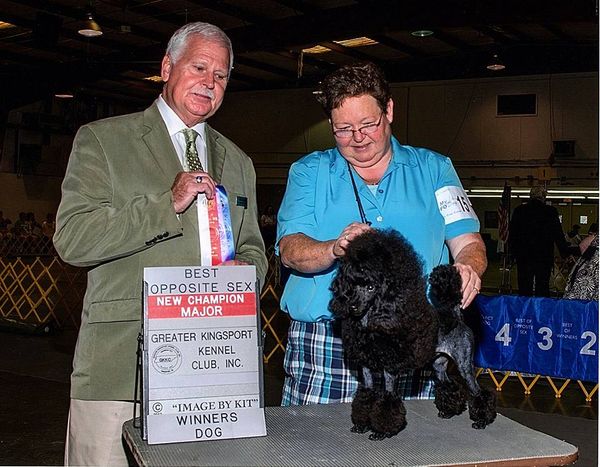 We have a Black Boy Available
DOB: 7/25/23
Give me a call 208-608-0644 "Judy"
Azizi Toy Poodles is a small hobby breeder of Toy Poodles in Boise, Idaho. We specialize in breeding Toy poodles in Dark Chocolate Brown, Red, Apricot and Black. Sometimes we are blessed with Tiny Toy poodles and Teacup poodles In Dark Red or Chocolate Brown. However, we strive for high quality toy poodles and only once in awhile we will have tiny toy poodles or teacup poodles available. We specialize in the dark chocolate brown toy poodle puppies but also breed for dark red, apricot and blacks in color. Each will have a five-generation pedigree.  My name is Judy Stewart and my husband Charlie and I live in beautiful Boise, Idaho. Some years ago I received a little black female Toy Poodle for Christmas. We named her "Precious" and she was the first poodle I had ever owned. Well, that was the beginning of a forever relationship with the most wonderful little God given creature I had ever known. Our kennel name "Azizi" means "Precious Little Treasure" in Swahili and that is truly what our little girl is to us.  In my previous life (before poodles), I had raised and showed Chows and Samoyeds in the conformation show ring. During that time, I owned and operated a boarding kennel and grooming parlor. Don't get me wrong, I loved & had many wonderful times with my Chows and Samoyed's, but nothing compares to the relationship and absolute devotion I continually receive from my poo babies. Since then, I have acquired several more additions to our family in Dark Red & Chocolate Brown. We successfully bred our "Precious" to a black champion. From this litter, I was awarded my beautiful little "Ebony" who is pictured within the 'Girls" tab. That experience was the beginning of a love affair with this sweet little breed. I now am a small hobby breeder of loving companion and show prospect puppies.  I specialize in the Chocolate Brown & Red Toy poodles. I love the Chocolate Brown Poodle personality. They are loving and are also little comedians.  The Red toy poodles are a little demanding but are also love bugs. Having had 35 years plus of raising several different breeds, my goal is to breed for the healthiest, happiest, sound of mind and body toy poodles that I possibly can.  I will always bear in mind to aim for the AKC standards. My husband & I are retired, so we have lots of time to spend with each and every one. All of our puppies are raised in our home with us and are pre-spoiled. Each puppy is well socialized and experiences potty training from an early age. I am extremely conscientious about the long-term health conditions of all of our poodles. Therefore, I only will be breeding sound of mind and body poodles, trying to eliminate any potential problems.
"For the past few years, we placed some of our puppies as service/therapy dogs.  Being able to improve the quality of life by placing one of our puppies gives us a huge blessing.  For that reason, our emphasis and goal will be to provide as many service animals as our breeding program will create.
Unfortunately, a few of our puppies simply do not possess the innate qualities needed to fill that category.  In that case, we make them available as a pet.
Whether you seek a service/therapy dog or a pet, contact us, we may have the perfect addition to your family!"
All of our kids live in our home with us. They do not live in kennels and never will....well sometimes they are "placed" in a kennel for their safety when we visit the Vet. I have completed Optigen testing for the genetic prcd-PRA Eye Disease. All of my breeding dogs are A's "Normal/Clear" and will never have or pass on this disease that causes blindness. Thanks for visiting my website. Please come back soon or feel free to call me at 208-608-0644 Judy Stewart
In case of any unforeseen disagreement, I maintain the right to refuse the sale of any puppy to anyone.